LISTEN TO SEAN READ AND TALK ABOUT HIS POETRY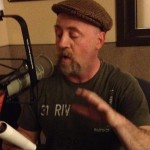 A selection of poems read by Sean when he was the featured poet in The Bakery 2012.
Read  the poem We Are So Illegal and then press the little MP3 button to hear Sean read the poem at Guernica 2012
Sean is interviewed by Dee Perry for the Cleveland  radio show The Sound of Applause. Sean is about 17 minutes in after Christoph Von Dohyanyi and before Henry Rollins (!). 2010.
And here is a selection read by someone else. The poem Something Lovely as the Rain appeared in the journal, the Healing Muse and was read on the NPR affiliate WRVO.